When it comes to sharing things you love with friends, it can go one of two ways: it can be a lot of fun for both parties involved, and you find something new in common; or, you find that it just isn't their thing. I feel like this is especially so for sharing fashion choices.
I am decidedly darker than most of my friends in the aesthetic I prefer. Most of my friends are T-shirt and jeans or flannel and leggings type people, who will occasionally put on a clubbing dress for when we go out. Very few of them find J-fashion to be of interest of them (though a couple have shown interest in Lolita and Mori Kei for special occasions). And these differences are perfectly fine! It's all about a variety and a spice of life. And I'd be lying if I said I didn't feel like wearing "comfort" fashion most of the time, especially as it gets warmer.
I recently got to sit down with a friend of mine, Sam, and share Lolita fashion with her. And it made for a really fun afternoon! You can watch the highlights in the video below.
Even though Sam prefers Sweet Lolita, I'd say she makes a pretty adorable Gothic, wouldn't you agree? I was pretty glad to see she was so excited about dressing up as a marshmallow, even if only for a short amount of time.
Coordinate rundown:
JSK: Bodyline
Blouse: Anna House
Socks: Offbrand (eBay)
Shoes: Offbrand
Mini hat: Ciciworks
Wig: GLW
What are your experiences sharing Lolita fashion with friends? Have you turned someone to the dark side? Or do your friends consider it just one of your quirks that simply isn't for them? Have you made your friends primarily through Lolita fashion as an ice breaker? Or are you the only Lolita in your social circle? I'd love to hear your stories down in the comments below! Until next time, stay frilly, my friends!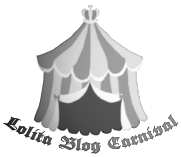 Other LBC Entries this week:
Ͽ
Ѻ
Ͼ Courtly Dreams for Burgher
Ͽ
Ѻ
Ͼ